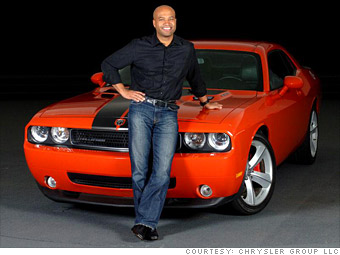 SVP of design, Chrysler Corp.
CEO, Dodge Car Brand
Gilles became a household name among car buffs after leading the design team that came up with the retro-elegant look for Chrysler 300 luxury-sport sedan, an instant hit in 2004. Now head of the Dodge brand, he has six new vehicle designs scheduled to emerge in the coming year.
For Chrysler, which emerged from bankruptcy last year under the control of Fiat, the new look comes not a moment too soon. Gilles, born in New York City to Haitian immigrant parents, went to design school in Detroit. He believes the region is set to blossom because of a "different corporate culture, a whole bunch of old companies with new innards," as a result of restructuring.
"We've looked at ourselves in the mirror and listened to our critics. You'll see the domestics hold their own against the imports, you'll see the collective competence of the Big Three. I'm very excited to see all the elements align so that the dream can come true.''

NEXT: Mary Petrovich

Last updated August 09 2010: 11:01 AM ET