The once-great city in crisis needs all the innovation and optimism it can muster. In this installment in the Visionaries series, Fortune profiles a dozen people in metro Detroit, from entrepreneurs to big-business leaders. Their ideas and energy offer hope for a more vibrant Detroit economy.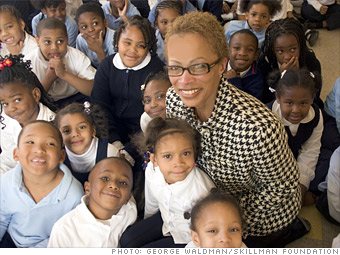 CEO, the Skillman Foundation
Goss heads a $457 million Detroit charity that devotes the majority of its giving to one cause: the city's children. Using that leverage, Goss has made progress in bringing credibility to the city's disastrous public-school system, where barely 3% of its fourth-graders meet national math standards.
She did it with the lure of a $200 million fundraising infusion for all the city's schools, without prejudice toward one kind or another -- public, charter or private. Goss persuaded everyone from parents to teachers to politicians to agree on higher standards and bolder actions.
Goss, a grandmother of three and a long-distance runner, is known as tireless and immune to negativity. She believes the schools are now accountable enough to attract national philanthropy. "Detroit is ready for investment," she says.
NEXT: Ralph Gilles
Last updated August 09 2010: 11:01 AM ET