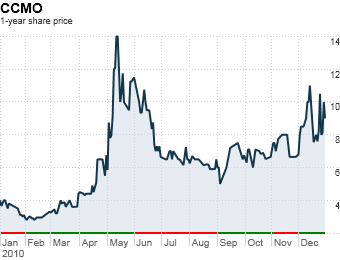 2010 revenue: $5.9 billion
2010 total shareholder return: 190.3%
The parent company of radio and billboard advertising giant Clear Channel Communications suffered hugely during the recession. But the company -- and its stock -- rebounded strongly in 2010 as it aggressively cut costs and benefited from a rebound in ad spending.
While revenues have risen, CC Media Holdings continues to sit on considerable debt -- $20.6 billion at the end of 2010 as a result of a 2008 acquisition by private equity firms Bain Capital Partners and Thomas H. Lee Partners. Low interest rates should afford it the opportunity to refinance some of that debt at more favorable terms this year.
NEXT: 3. Cummins
Last updated May 05 2011: 3:04 PM ET
List excludes companies whose stocks fell below $1 during 2010.