In a soaring market, many Fortune 500 stocks posted strong returns in 2010. But the 20 that follow rewarded shareholders the most. Will they keep rising?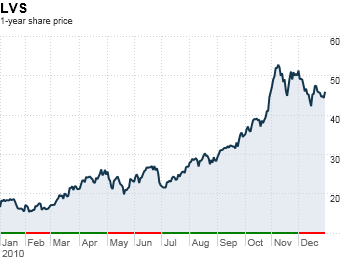 2010 revenue: $6.9 billion
2010 total shareholder return: 207.6%
Its name says Las Vegas, but this casino operator tripled in market value in 2010 thanks to its fast-growing business in Asia. The company owns the Venetian and Palazzo on the Vegas strip, but about 85% of its sales last year came from Asia, with around 60% of that alone coming from Macao. After all, it's now the world's biggest gambling market and the only place in China where casinos are legal.
The growth there is stunning: While gambling proceeds in Las Vegas rose by 4% to $5.7 billion in 2010 over the previous year, Macao's gaming revenues rocketed 58% to $23.5 billion during the same period. Las Vegas Sands plans to open its fourth Macao casino later this year.
NEXT: 2. CC Media Holdings
Last updated May 05 2011: 3:04 PM ET
List excludes companies whose stocks fell below $1 during 2010.