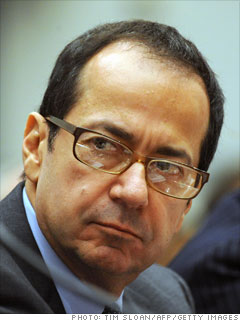 Some might call it karma or his comeuppance. Hedge fund manager John Paulson was the force behind what's been dubbed the "greatest trade in history" betting on the coming subprime mortgage crisis in 2007. In 2011, the head of Paulson & Co. officially lost his Midas touch. Ironically, Paulson's investments in gold are taking a hit too.
Even for a year with record volatility, Paulson's investors suffered more than almost any others. His primary fund had lost 46% by November 2011. The heavy losses prompted Paulson to offer an apology to his investors in his third quarter letter. In it, he said: "Year to date performance was the worst in the company's 17-year history. We are disappointed and apologize for those results."
The bulk of Paulson's holdings closely parallel a list of the worst investments of 2011. Paulson went long on the financial sector buying up shares of Bank of America (BAC) (down 60% year-to-date) and Citigroup (C) (down 43% year-to-date).
Paulson's fund also took a large stake in the Chinese timber company Sino-Forest. That company's shares fell after the research group Muddy Waters issued a report alleging fraud at the company. Paulson & Co. lost a reported $720 million on the stock by the time he exited the position in mid-June.