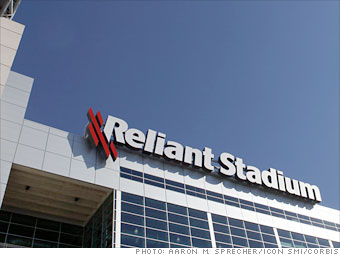 New stadiums are cropping up all the time (the most recent being the New Meadowlands Stadium in 2010, Cowboys Stadium in 2009, and Lucas Oil Stadium in 2008), and corporations will often scramble to attach their name. Teams can collect as much as
$25 million
to
$30 million
for stadium naming rights, usually on 10-year deals.
Experts say huge pacts may be the way of the past, and have lost their efficacy for the paying corporation, but at least one exception exists in LA: Farmers Insurance has promised to pay $700 million over 30 years to name an L.A. stadium for a team that doesn't exist yet.

Reliant Energy pays $10 million per year for stadium naming rights with the Texans (pictured).


NEXT: Sponsorships: corporate
Last updated March 09 2011: 12:45 PM ET