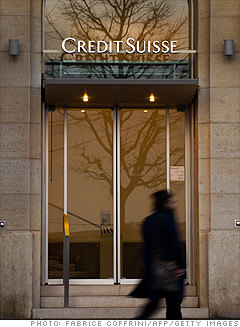 Europe's debt crisis took its toll on this Zurich-based bank's bottom line in the second quarter.
Now Credit Suisse is looking to lay off 4% of its global workforce -- or roughly 2,000 employees, as part of a move that it hopes will save about $1.3 billion.
"We need to make sure we can continue to deliver returns even if these conditions persist," CEO Brady Dougan said in a conference call with reporters. "We believe our ability to act decisively in adjusting our cost base will ensure that Credit Suisse maintains its position, produces strong profitability and generates best-in-class returns."
About 500 of those job cuts will be made in Switzerland, but the company has not said where the remaining layoffs will be made.