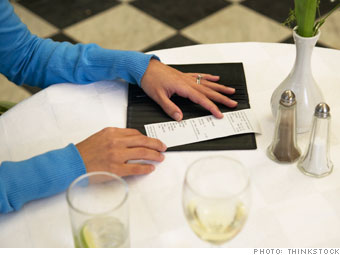 Eating out is one of the most expensive habits you can have.
Consumers spent an average of $28.47 on each restaurant meal in 2010 and averaged 82 restaurant visits during the year -- adding up to $2,341, according to Mint.com.
Bars and alcohol are another money sucker, with people paying even more per transaction for alcohol than they did for dining out last year. On average, people spent $42.27 each time they went bar-hopping.
"It amazes me that when someone asks you for a $20 donation to charity, you think that's too much to give, but then you don't think twice about dropping 100 bucks on dinner," said Tom Orecchio of Modera Wealth Management.
Orecchio said one of his clients used to grab lunch from delis every workday, spending $10 to $15 each time. When he realized how much the habit was costing him, he began brown-bagging his lunches, and ended up saving more than $2,500 a year.