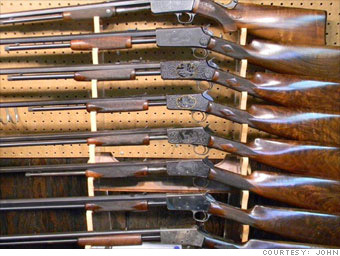 Investing in guns makes 50-year-old John (he asked that his last name not be disclosed) feel a lot more secure about his nest egg than investing in stocks.
"I've lost money in stocks and other investments, and it just puts a bad taste in your mouth," said John.
In fact, the lion's share of his retirement money is invested in collectible firearms from the early 1920s. The collection includes about 200 handcrafted, one-of-a-kind guns, including Winchesters, Remingtons and Marlins.
By John's estimate, the collection is worth about $250,000. His collection of nine Marlins (pictured above) cost him $75,000 and is now worth an estimated $190,000.
Since IRS rules don't accept collectibles as part of self-directed IRAs, however, John's missing out on many of the tax benefits of traditional retirement accounts. But for John, investing in something he knows, loves and -- most importantly -- trusts, is worth the risk.
His golden years will just be a little different than they are for others.
"Once I retire, I'll just start breaking down my collection," said John. "If I want to take a big vacation or something, I'll just let go of half a dozen of them, and keep unloading them as we need more money."