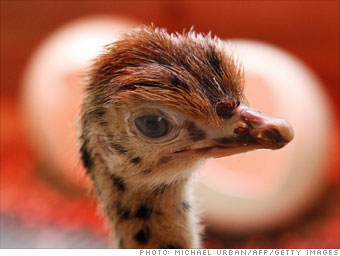 There are always a couple investments that are just too wacky to take flight.
One man came to Guidant Financial wanting to invest his retirement savings in ostriches -- with the hope of generating a side income from selling ostrich eggs, according to David Nilssen, co-founder of Guidant Financial.
But after talking it through with an adviser, they agreed that even if he sold ostrich eggs on the side to bring in a secondary revenue stream, the investment wasn't reliable enough to count on in retirement.
"They probably don't produce enough eggs to provide much of a profit," said Nilssen. "It was more of a case where someone thought, 'Oh, cool I can invest in ostriches,' but didn't really think it through first."
And because the client didn't have enough savings to invest in a plot of land to keep the ostriches, he scrapped the idea and stuck with his traditional retirement account, said Nilssen.