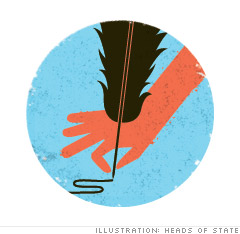 Time it takes: Two to three hours
Who wants to spend an afternoon thinking about her mortality? No one, which is why 55% of Americans don't have a will, according to FindLaw.com.
"But without one, you could be leaving disposition of your assets and the guardianship of your minor children to a court," says New Jersey attorney Gerard Brew. If you have young kids and/or significant assets, you should really consult a lawyer.
For now, however, download Quicken's WillMaker Plus ($35) from nolo.com. The program takes only 30 minutes to complete. But count on the discussion with your spouse over whether his mother or your brother would make a better guardian to add some time.
From the editors of Real-Simple and Money. Text by Stephanie AuWerter - Last updated November 30 2011: 6:39 PM ET