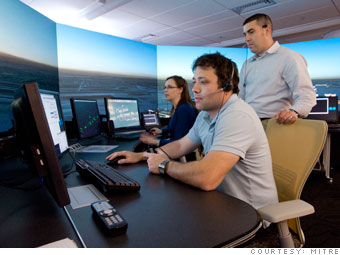 Average total pay: $127,734
For:
Information Systems Engineer, Lead*
A nonprofit research and development firm serving the Department of Homeland Security, Federal Aviation Administration, and other government divisions, MITRE helps its employees stash away enough savings to replace 80% to 100% of their salaries during retirement. The company matches up to 12% of employees' retirement savings with immediate vesting. The participation rate is 99%. MITRE's retirement holdings are around $3 billion.
Due to the recent downturn, the company opted not to grant pay raises in 2010, and instead gave lump-sum merit payments to everyone in the company. Some managers skipped their own payments to increase the pot for others in their divisions.
MITRE also compensates its workers through generous training programs: The company spends more than $7 million per year on internal and external training and offers each employee up to $24,000 in tuition reimbursement per year, with bonuses given for earning master's or doctoral degrees.
NEXT: Johnson Financial Group
Last updated January 26 2011: 2:26 PM ET
*Most common salaried job