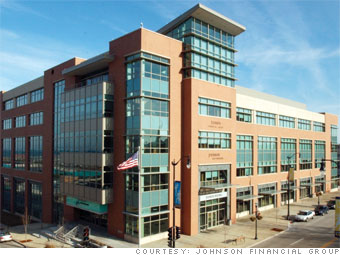 Average total pay: $123,926
For:
SVP Commercial RM*
Family-owned and Wisconsin-based Johnson Financial Group is the kind of company that has its own employee choir and band. Employees take pride in offering "small-town service" to clients; workers volunteered an average of 63 hours last year, and the company contributed $1.1 million to charitable causes.
Unable to offer a profit-sharing bonus last year for the first time in decades, Johnson raised salary ranges at an above-the-market pace while bumping up merit bonuses. Senior tellers can make additional compensation that can equal almost a third of their salaries. The company also gives out abundant awards to recognize employees' contributions, including some cash prizes up to $15,000.
Johnson looks out for workers' futures with a money-purchase pension plan, as well as a dollar-for-dollar 401(k) match of up to 2% of salary, with 50% matching on the next 5% of salary.
NEXT: Adobe Systems
Last updated January 26 2011: 2:26 PM ET
*Most common salaried job