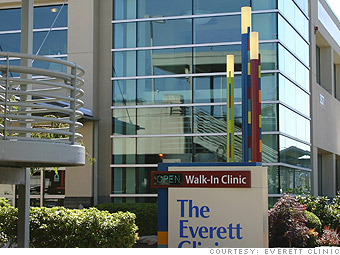 Average total pay: $118,500
For:
Nurse Practitioners*
A physician-owned health care system in the Seattle area, the Everett Clinic surveys employees frequently to make sure their benefits are up to snuff. While other providers in the region were imposing pay freezes during the downturn, Everett bumped up its payroll by $1.82 million and doled out a 5% profit-sharing bonus on average to employees at all levels.
The company also kept up a 100% tuition reimbursement program and maintained 100% of employees' health-care coverage. It even contributes to the health premiums of retired employees.
Everett is piloting a "pay for performance" program -- an unusual approach in health care. The Clinic's turnover rate is just 3% for full-time positions.
NEXT: Atlantic Health
Last updated January 26 2011: 2:26 PM ET
*Most common salaried job