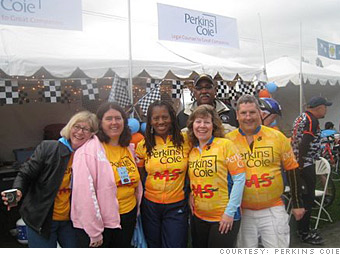 Average total pay: $182,544
For:
Associate*
Associates at this Seattle-based firm earn above-market salaries while representing clients like Boeing, Amazon.com, Craigslist, and Starbucks (yes, they get free coffee). They can also reap dividends from the firm's equity stakes in various early-stage companies.
Last year, P&C fended off spammers for Facebook; helped Al Franken win his election; and defended Osama Bin Laden's driver on a pro-bono basis. One of the firm's partners is President Obama's personal attorney; her predecessor, also from Perkins Coie, holds a post as White House Counsel.
P&C was admirably egalitarian during the recession, as partners took a 10% pay cut but merely froze pay for staff and associates. When business ticked back up, non-attorney staff were the first to receive year-end bonuses. Other progressive perks include a 50% subsidy for employees to commute by public transportation, and $20-per-month reimbursement if they ride a bike in to work.
NEXT: Devon Energy
Last updated January 26 2011: 2:26 PM ET
*Most common salaried job