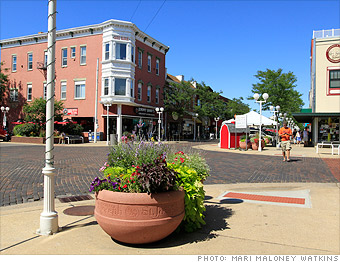 Population: 8,400
% over 50: 40%
Median home price: $150,000
Top state income tax: 4.35%*
Cost of living index: 91
The Lake Michigan coastline that hugs the western border of the state has all the charm of the seashore, only without the impossibly high home prices. Lots of appealing little towns dot the "Riviera of the Midwest," but St. Joseph--with its vibrant year-round community, top-notch medical care and proximity to Chicago--stands out.
Its downtown features bakeries, boutiques, and other local businesses in historic buildings along the bluff overlooking the lake. Visitors traveling along the coast just outside town and you can climb giant sand dunes, visit an old lighthouse, and sample locally grown Cabernets, Pinots, and Merlots.
A $150,000 budget gets you a three-bedroom within strolling distance of the beach. To sweeten the deal, Michigan doesn't levy state income tax on distributions from qualified employer and individual retirement plans.
See complete data and interactive map for St. Joseph