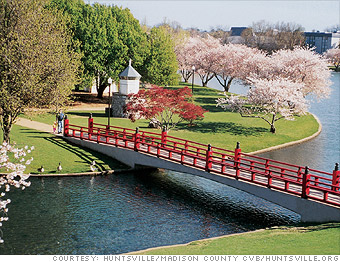 Population: 180,100
% over 50: 37%
Median home price: $152,000
Top state income tax: 5%
Cost of living index: 91
Known by aerospace buffs as "The Rocket City," Huntsville's Marshall Space Flight Center was the original NASA and still plays a major role in civilian and government spacecraft and rocketry.
There's plenty going on right here on Earth in this northern Alabama burg, too. More than 3,200 acres of parks blanket Huntsville, which also boasts nearly a dozen recreation centers, six public golf courses, three municipal swimming pools, and 175 miles of bicycle paths.
That's just in the city. Huntsville's location between the Tennessee River and the Appalachian Mountains make it an ideal base camp for hiking, fishing, boating, and birding in nearby state parks and nature preserves.
This bucolic setting doesn't come at the expense of amenities. Huntsville also has a healthy serving of restaurants, stores, performing arts, and medical care. The University of Alabama in Huntsville's Osher Lifelong Learning Institute offers dozens of courses geared toward retirees.
See complete data and interactive map for Huntsville