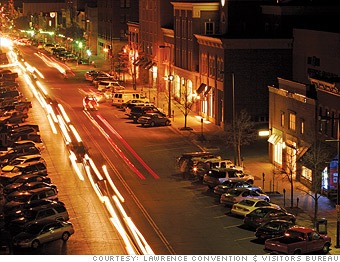 Population: 87,600
% over 50: 21%
Median home price: $136,000
Top state income tax: 6.45%
Cost of living index: 94
Meander down Massachusetts Street and you can understand why the National Trust for Historic Preservation recognized this small city in northeastern Kansas as a "distinguished destination."
While the city's Romanesque Revival and Beaux Arts architecture has been meticulously preserved or restored, today's tenants range from quirky shops to natural food stores. As home to the University of Kansas, Lawrence has all of the art, education, medical care, and sports events you'd expect of a major college town.
And contrary to the state's dust bowl reputation, water is plentiful in these parts. Nearby Clinton Lake is considered one of the best boating spots in the country; land lovers can explore a plethora of trails meandering along it 85-mile shoreline. The Baker Wetlands Research and Natural Area is a boon for bird watchers. And for retirees looking to dip their toes year round, there's the city's $9 million Indoor Aquatic Center.
See complete 2010 data and interactive map for Lawrence