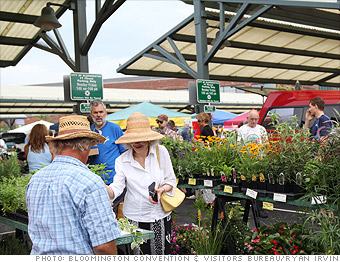 Population: 80,400
% over 50: 21%
Median home price: $170,000
Top state income tax: 3.4%*
Cost of living index: 93
Southern Indiana is probably the last place you'd expect to find authentic Middle Eastern food, Traditional Tibetan monuments; or a museum showcasing artifacts from around the world. Yet Bloomington offers all that and more -- thanks in part to Indiana University.
The university's prestigious Jacobs School of Music has put the city on the map among music circles for genres ranging from opera to punk. Theater is also big here, with acts taking the stage at the 3,000-seat University Auditorium and at a restored 1922 vaudeville and movie house, among others.
While there's plenty to see and do on the university's picturesque campus--one of the prettiest in the country--Bloomington's eclectic downtown, leafy neighborhoods, and nearby 200,000-acre Hoosier National Forest add to the appeal. Retirees should have no trouble finding activities and organizations to suit their fancy thanks to the Bloomington Lifelong Learning coalition, which promotes senior enrichment on campus, via the city and elsewhere.
See complete 2010 data and interactive map for Bloomington