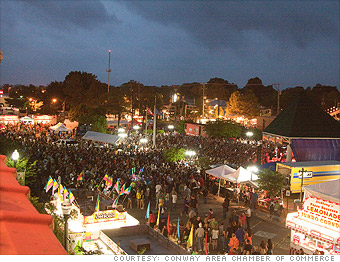 Population: 58,900
% over 50: 22%
Median home price: $140,000
Top state income tax: 7%
Cost of living index: 93
Love of the water is a big reason for retiring to Conway, whether you want to paddle as far as your arms will take you, land the catch of a lifetime, or soak in the views.
On the north side of town, Beaverfork Lake is a popular spot for recreation, both on the water and the lush shoreline. Serious anglers can head a few miles south of town to 6,700-acre Lake Conway, the largest man-made lake built by a state game and fish commission.
Once retirees dry off, they can take advantage of classes, speaking events, and performances on three different campuses: Hendrix College, University of Central Arkansas, and Central Baptist. Downtown, meanwhile, is bustling with live music, gallery hops, outdoor cinema, and a thrice-weekly farmers market.
See complete data and interactive map for Conway