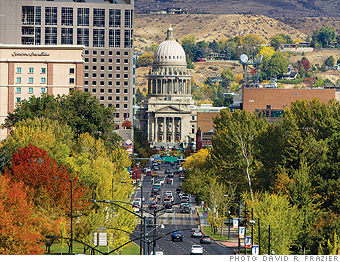 Population: 205,600
% over 50: 30%
Median home price: $120,000
Top state income tax: 7.8%*
Cost of living index: 97
If you're the type who can't survive without your symphony, art, and theater fix, you may have resigned yourself to staying in some pricey coastal burg during retirement. Take a look at Idaho's capital city instead.
Granted, Boise is no Manhattan. But its thriving cultural scene includes an opera company, a philharmonic orchestra, and a ballet. At Boise Art Museum, which focuses on contemporary American art, you'll see works by Ansel Adams and Chuck Close.
Catch shows at Boise State University's Morrison Center for the Performing Arts, which hosts not only classical events but also touring Broadway shows and such boomer draws as Merle Haggard and Kris Kristofferson. Or hit the annual Shakespeare Festival at the city's 770-seat outdoor amphitheater.
Residents also enjoy all the outdoor activities you might expect of a city that's flanked by mountains and bisected by a river full of fish -- and that has a mild climate year round.
Another plus: Violent crime in Boise is little more than half the national average. That's a remarkable score for a city this size.
See complete data and interactive map for Boise