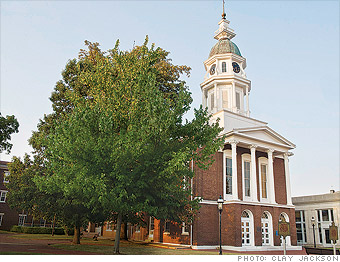 Population: 16,200
% over 50: 37%
Median home price: $120,000
Top state income tax: 6%*
Cost of living index: 93
You can't stroll through this small town in horse country without feeling a strong connection to the past. A half-dozen different districts in Danville are listed on the National Register of Historic Places.
It was in Danville's Constitution Square that delegates assembled in 1792 to proclaim Kentucky the nation's 15th state. The original log post office -- dating from that same year -- still stands, as do many antebellum buildings. And there's plenty in the area to keep Civil War buffs happy, including nearby Perryville Battlefield, where Union and Confederate soldiers skirmished in 1862.
Expect plenty to do in the here and now, too. In the past 18 months, a new microbrewery and three new restaurants joined the art galleries and gift shops downtown. The Norton Center for the Performing Arts, at 190-year-old Centre College, offers many cultural events. In summer, Danville shows free outdoor movies each week; in fall, it hosts an annual arts festival (with historic reenactments) that draws artists from all over the state.
Two more pluses: The area's regional medical center is right in town. And the urban amenities of Lexington and Louisville are a 40- and 90-minute drive away, respectively.
See complete data and interactive map for Danville