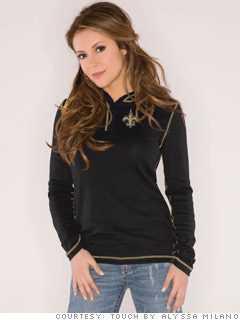 Companies: Touch by Alyssa Milano
Actress Alyssa Milano, best-known for her roles in TV shows like Who's the Boss, Melrose Place and Charmed, is a big sports fan. But for years, she was frustrated at the limited amount of stylish female sports apparel.
That's why in 2007, the avid Los Angeles Dodgers and Lakers fan launched Touch by Alyssa Milano, chic team-logo apparel for women.
''I created Touch for women who love sports as much as I do, and want to be comfy, but still stylish, while cheering on their favorite team," Milano said.
The Touch line, sold in partnership with G-iii Sports, has experienced a steady growth of 25% to 50% over three years. It includes clothes with logos of pro baseball, basketball, football, hockey, soccer teams, as well as college sports teams.
The 38-year-old actress, who is expecting her first child this fall, is involved in every aspect of the clothing line.
With one million Twitter followers, she has plenty of opportunity to promote her line. She hopes to soon open Touch boutiques in stadiums across the country.