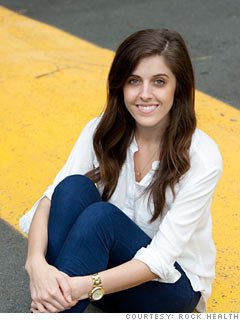 A seed funding accelerator for healthcare startups, San Francisco-based Rock Health was launched in 2011 by Halle Tecco and Nate Gross, a medical student and former classmate of Tecco's at Harvard Business School. For one of 13 spots in its first "class" of startups, the accelerator received more than 350 applications. Winning teams spent five months in workshops receiving mentoring, legal advice, design and marketing help and a $20,000 early seed grant.
"They used that five months to build a product and start trials, often with one of our partners, like The Mayo Clinic, Harvard Medical School and University of California San Francisco," says Tecco, the company's CEO.
Rock Health is unique in Silicon Valley's increasingly crowded accelerator scene for its exclusive focus on healthcare startups. It has funding from corporate sponsors including Microsoft, Qualcomm, Quest Diagnostics and Genentech, among others, and its medical partners have agreements to help Rock Health's pharmaceutical startups begin drug trials at an early stage. Two of Rock Health's first graduates have drawn additional funding from investors. The next class of startups begins their five-month program in January.