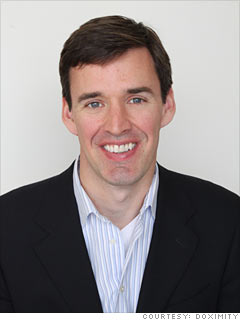 Chatting by e-mail or text message can be tricky for physicians: The United States' sweeping health care privacy law, HIPAA, requires that sensitive communications be made through secure channels. Enter Doximity, which is assembling a LinkedIn-style professional network just for doctors. Before doctors can use the app, the company verifies their background and credentials. All messages sent through the service are encrypted.
"Medicine is a team sport," says cofounder and CEO Jeff Tangney. "Doctors need to be able to communicate quickly with each other and with their patients." Doximity has around 32,000 doctors -- roughly 5% all U.S. physicians, according to census estimates -- on board so far. The company launched in March, has 20 employees and raised $10 million in venture capital.
Tangney is a serial health-care entrepreneur whose previous company, mobile drug reference tool Epocrates, went public earlier this year. Doximity's service is free for users. The company is exploring various revenue ideas, such as charging market researchers for access to its members.