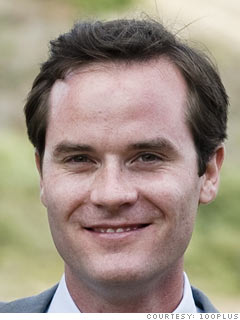 This San Francisco startup aims to predict what your health will be like in the future, near or far. Cofounders Chris Hogg and Ryan Howard created 100Plus in October and have raised $1.25 million in seed funding, with $500,000 of that coming from Peter Thiel, the cofounder and former CEO of PayPal. The company currently has three employees but plans to grow to 10 in early 2012, when 100Plus launches to the public.
100Plus takes basic health information -- weight, height, diet, activities, stress level -- and creates a benchmark that is used to compare people to those with similar attributes. The key to the company's ability to make health predictions is large amounts of information culled from sources just beginning to make their data publicly available, like the National Institutes of Health and the Centers for Disease Control. Cofounder Howard's company Practice Fusion, which runs an electronic medical records system, gives 100Plus access to about 26 million patient records.
"It's all de-identified," says Hogg, the company's CEO. "We know basic body information, medications taken, how often they go to the doctor, what disease they have, but we don't know who they are."
The goal of 100Plus is to help people change their health trajectory. At 65, will you be a diabetic with heart disease? Will you have mildly high blood pressure but be active and healthy? "It's not like you wake up one day with Type 2 diabetes," Hogg says. "It's a 30-year process."