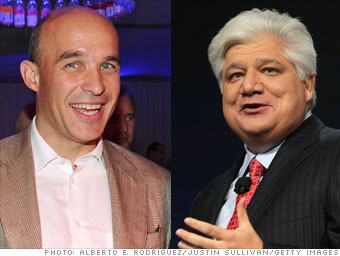 BlackBerry maker Research In Motion, once king of the smartphone world, is now struggling mightily to keep up.
Ever since Apple debuted the iPhone in 2007 and the iPad in 2010, RIM has been playing catch-up -- and largely failing to do so. It has been supplanted by both Apple and Google, and analysts expect Microsoft's Windows Phone will soon outpace BlackBerry sales as well.
It doesn't help that the best smartphone BlackBerry has to offer, the Torch, debuted eight months ago to mixed reviews and disappointing sales. The much-hyped PlayBook tablet was launched last month without critical tools like e-mail, contacts or calendar applications.
Shares are trading at less than a third of the stock's all-time high (set in August 2008), and are down about 26% this year.
"RIM's co-CEO's are under tremendous pressure," said Dan Hays, telecom consultant at PRTM. "A shakeup of RIM's management team is likely if they are unable to bridge the gap between the highly successful model that has carried them for the last decade and the new paradigm of open operating systems and third-party applications."
RIM's acquisition of QNX has been largely applauded, since it will finally bring a modern operating system to BlackBerry devices. But consumers are growing impatient, and competitors aren't waiting around for RIM to make its next move. Late last month, RIM cut its profit forecast for the current quarter due to lower than expected BlackBerry sales.