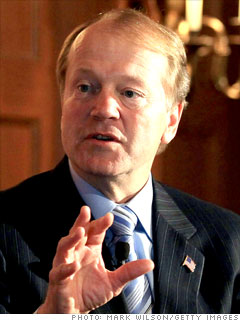 Cisco became one of the great Silicon Valley success stories on the back of John Chambers' savvy and market foresight.
But Cisco has struggled to grow in recent quarters, and Chambers' tone has become increasingly pessimistic. Shares have lost a third of their value over the past 12 months, and Cisco is the worst performer in the Dow Jones industrial average this year.
"Confidence is slowly eroding as more and more challenges come about, and these initiatives he has don't pan out with the speed that Wall Street wants," said Ken Dulaney, analyst at Gartner. "He needs to read the handwriting on the wall that he's going to have to change some of his long-held strategy."
To some degree, Chambers has shown that he understands changes need to be made. "We have acknowledged our challenges," Chambers said earlier this month during a conference call with financial analysts. "We know what we have to do."
In a memo sent to company employees last month, Chambers wrote that the company would take "bold steps" and make "tough decisions." Step one: Cisco killed off its Flip unit and streamlined its consumer business in April, and recently announced looming layoffs.
But investors aren't convinced that Chambers is doing enough to right the ship. Cisco has expanded into numerous markets beyond networking, yet the company hasn't been nimble enough to fend off growing threats from rivals HP and Juniper.
Many of the acquisitions it has made have failed to pan out, and analysts are calling for a narrower and tighter focus. Others wonder if Cisco can ever return to the double-digit growth it posted each quarter for more than a decade.
Even with all those challenges, most analysts think Chambers will be given time to clean up Cisco's mess.
"He's not going anywhere soon," said Dulaney. "He's got a good personality and a good following. But he's got to make bolder changes."