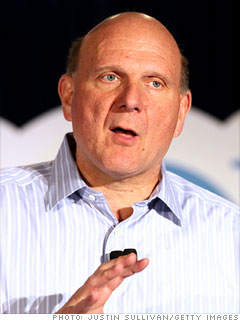 A chart of Microsoft's stock performance over the past decade could easily be confused with an EKG: The line goes up and down in a tight range and generally follows the same path straight across.
Once the highest-valued tech company on the stock market, Microsoft has been surpassed by Apple last year and, this week, IBM.
All of this happened under Steve Ballmer's watch.
"Microsoft is already down to No. 3 in tech market cap from No. 1 (are they going to wait until he hits double-digits?), and its stock has gone nowhere in 10 years," Carl Howe, analyst at Yankee Group, said via e-mail. "Ballmer could be a world record for non-performance and still keeping his job."
Microsoft now faces serious questions about whether the company is equipped enough to survive in a post-PC world. The company sent up one promising signal this past quarter, when strong Office, Xbox and Kinect sales overshadowed slumping sales of Microsoft's signature Windows product. A smartphone tie-up with Nokia is also encouraging for Microsoft's future mobile prospects.
But long-term worries remain. Microsoft still doesn't have a legitimate tablet competitor, its online business is losing upwards of $1 billion a quarter, and consumer PC sales are falling faster and sooner than anticipated.
Analysts now question whether Microsoft under Ballmer has the will and direction to innovate its way out of the problem. The drumbeat of criticism got louder this week as influential investor David Einhorn, who holds significant Microsoft stock in his hedge fund Greenlight Capital, called on Microsoft's board to replace Ballmer.
"It's time for Microsoft's board to tell Steve Ballmer, `All right, we see what you can do, let's give so-and-so a chance,'" Einhorn said at an industry conference. "His continued presence is the biggest overhang on Microsoft's stock."