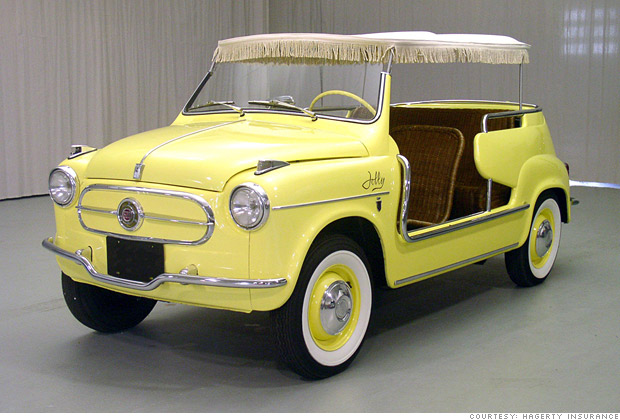 Value today: $50,000
Price when new: $1,800
When we published the Hagerty Insurance Co.'s list of cars they deemed to be future collectibles, it got a strong response. Much of it was along the lines of "You're crazy!" and "Who paid you to pimp these cars?"
One car that came in for particular scorn was the Fiat 500 Abarth. Well, if you think that car -- a turbocharged performance-tuned Fiat 500 -- could never be collectible, consider this old Fiat.
Fifty years ago, if you'd told someone the Fiat Jolly would be a sought after collectible, they'd probably still be laughing about it today. Essentially the mid-century equivalent of a nice golf cart, the Jolly was designed to run around by the beach on sunny days. And they were relatively expensive, too, compared to the Fiat 500s and 600s they were based on.
It might be hard to look at a brand new car and imagine it as a future collectible. But most of Hagerty's choices were pretty safe bets compared to some past "least-likely-to-succeed' models that have actually gone on to become winners.
Check out some of these older cars that, with the benefit of hindsight, Hagerty points out as surprising collectibles. (Collectible, mind you, doesn't always mean a car's worth six or seven figures. Just that's it's held its value -- or improved on it -- better than the typical car of its era.)