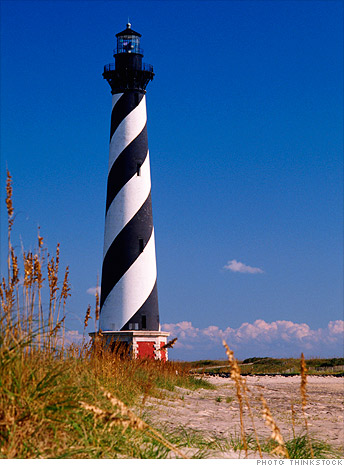 There may be no substitute for Hawaii's breathtaking scenery, active volcanoes, rushing waterfalls and black sand beaches, but there are much less expensive and attractive options for couples looking for a romantic beach destination in the U.S., according to the Knot's Kristin Koch.
For newlyweds on the East coast, North Carolina's Outer Banks is a quick (and cheap) flight with beautiful beaches and plenty of outdoor activities like windsurfing and horseback riding.
Hotels here cost less than $100 a night, on average, in the off-season. Although summer is the best time to go. Rates at popular spots like the Inn on Pamlico Sound jump to over $300 a night in August but even then, prices are still far less than the sky-high rates at beach resorts on the islands, where a stay in an ocean view at the Marriott in Kauai starts at $450 a night (not including champagne and rose petals).