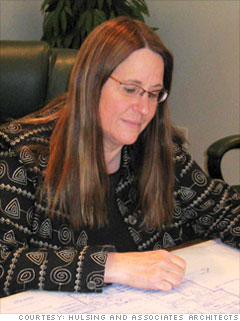 Company: Hulsing and Associates Architects
Location: Dickinson, N.D.
Janet Prchal no longer has to market her architecture firm in North Dakota.
"Well, I would say we don't have to go out and beat the bushes for work," said Prchal. "Work comes to us." Cities like Williston, N.D., are experiencing a shortage of affordable housing because of the state's booming oil and natural gas industries.
Cities and counties are expanding their infrastructure; some of those projects have been going to Hulsing and Associates.
Hulsing has eight employees and three offices in North Dakota. Most of the firm's clients are city, county and state agencies, but Hulsing has also completed projects in South Dakota and Montana. Most of the projects involve designing buildings like schools, water treatment plants and courthouses.
"I'm doing an addition onto a lot of county courthouses because of all the oil men who come in," said Prchal. Courthouses are expanding in part to better accommodate the influx of oil workers researching land titles, she explained.
Prchal said Hulsing's revenues have almost doubled since the boom began about three years ago, and the company has been getting bigger, multimillion-dollar projects.
"We still have a few $1 million projects, but we call them the 'little ones,' " said Prchal. Nevertheless, Prchal said she still hasn't made the jump to hire another employee.
"I'm to the point where I don't want to expand too much, because the oil will not be here forever," she said.