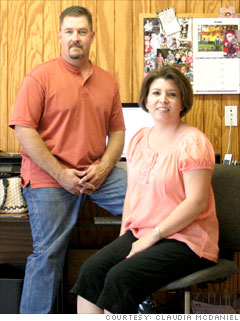 Company: Javelin
Location: Carrizo Springs, Texas
Because of the oil boom in the tiny city of Carrizo Springs, Texas, the newspaper "The Carrizo Springs Javelin" has been experiencing a boom of its own.
The paper now averages roughly 20 pages per issue because of the increase in advertisements, said editor Claudia McDaniel. Her classified ads are mostly aimed at the oil industry and involve everything from citations for landowners to ads for parking spots for the RVs in which many of the workers live.
"We were a 12-page paper before this hit," said McDaniel, who has owned the Javelin with husband Howard since 1999.
McDaniel said revenues were up in 2010, and she's projecting a 50% to 60% increase for 2011. She and her husband, who make up the entire staff, have considered hiring another employee. They have held off for now, working extra hours on the weekend or a weeknight in order to make sure the paper gets out on time.
"A lot of our free time that we were piddling away I guess, we started actually working," McDaniel said with a chuckle. "Now one of us has to stay at the office and keep on working because the calls are coming in, the ads are coming."
McDaniel said the increase in revenue has allowed them to cover an increase in delivery costs because of the rise in gas prices. McDaniel doesn't expect the boom behind it all to end anytime soon.
"We still keep getting word that this is going to be 20, 30 years, if not more," said McDaniel. "The projections keep getting further."