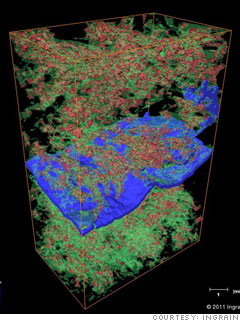 Company: Ingrain
Location: Houston
When oil prices are high, companies like Ingrain, a startup that analyzes rock properties for the oil and gas industries, get busy.
"We've certainly seen a huge uptick in interest for our business," because of the attention on oil shale, said Ingrain CEO Marcus Ganz.
Oil shale is a sedimentary rock that contains a liquid that can substitute for crude oil. When drilling for oil, companies analyze rock samples to determine the characteristics of an oil reservoir and how best to develop it.
Ingrain uses a high resolution digital image of the rock and relies on software to simulate testing -- a faster method that means tests can be repeated without obtaining new rock samples.
The company employs about 70 people, but has been expanding. Last year, Ingrain hired 10 employees and opened labs in Abu Dhabi, Brazil and Columbia.
Demand for Ingrain's technology has been particularly successful in Southern Texas. The area is home to the Eagle Ford shale formation, and drilling permits increased tenfold in 2010.
"That's where we really made our mark -- by getting some fast shale analysis for our clients," said Ganz.