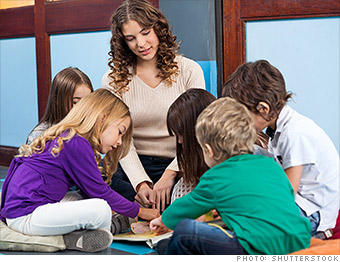 What's the most stressful aspect of running a daycare center? The parents, says Erika Jackson, who worked at the job for 10 years.
It's stressful enough just making sure the kids are safe, happy and learning. "[The parents] forget that there are other children in the room," said Jackson, who is now an administrator for the National Early Childhood Program Accreditation in Washington, D.C. "They want their children to have special attention, special accommodation."
Related: How much do you need to earn to be happy?
Daycare directors manage staffs, oversee activities and prepare budgets.
Yet despite all of that responsibility, the pay is often low with a median salary of around $33,000.
"It's just like teachers," said Jackson. "We should get more money."