What makes it so great?


Our new No. 1 sets the standard for Silicon Valley: free meals, swimming spa, and free doctors onsite. Engineers can spend 20% of time on independent projects. No wonder Google gets 1,300 résumés a day.


Google is famous for its unique company culture. Here's a quick peek at some of the fun. (

more

)

•

A day in the life of a 'Googler'

The cuisine at Google's 11 cafeterias on its Mountain View, Calif., campus is not only fabulous, it's free. Bon appetit! (

more

)

'Yes, you're going to work, but you're also going to have fun as well...'

•

Google's meteoric rise

How much do you know about the Best Company to Work For in America? (

more

)
Headquarters: Mountain View, Calif.

Top 3 (of 16) U.S. locations: Mountain View, New York , Kirkland

2005 revenue ($ millions): 6,138
Best companies headquarters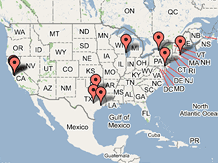 Click to enlarge
Show Best companies to work for:
Most common job (salaried):
Confidential
N.A.
Most common job (hourly):
Confidential
N.A.
From the January 22, 2007 issue