What makes it so great?


In addition to great salaries, last year the Wall Street firm made discretionary contributions up to $6,000 to eligible 401(k) accounts. CEO alums include Treasury Secretary Henry Paulson and N.J. governor Jon Corzine.


Headquarters: New York

Top 3 (of 27) U.S. locations: New York , Jersey City, Chicago

2005 revenue ($ millions): 24,800
Best companies headquarters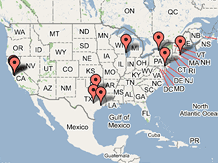 Click to enlarge
Show Best companies to work for:
Most common job (salaried):
Other Exempt (Analyst, Program Analyst and Associate)
$129,000
Most common job (hourly):
N.A.
N.A.
From the January 22, 2007 issue