45. Bain & Co.

What makes it so great?


The annual Bain World Cup brings together staffers worldwide for a soccer competition. In 2006, 28 offices fielded players in Brussels, where Bain Northeast defeated Stockholm, 1-0, in front of 500 employees.


Headquarters: Boston

Top 3 (of 7) U.S. locations: Boston , San Francisco , New York

2005 revenue ($ millions): N.A.
Best companies headquarters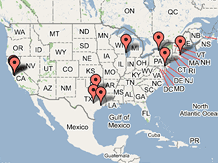 Click to enlarge
Show Best companies to work for:
Most common job (salaried):
Consultant
N.A.
Most common job (hourly):
Executive Assistant
N.A.
From the January 22, 2007 issue