100 Best Companies to Work For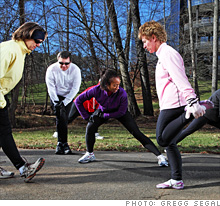 There's a new No. 1 in town: tech powerhouse SAS. Yes, even in a tough job market, some employers dole out perks like on-site saunas, discounted massages and classes on Wii bowling. Meet this year's top 100; profiles include maps, contact info and more.
More

California is home to the most companies on this year's list. See the top employers near you (including interactive maps) and the best places to live nearby.
more

14 companies on this year's list pay 100% of their employees' health-care premiums.
More

Select benefits you want and see instantly which Best Companies offer them.
more

SAS, a tech powerhouse, doesn't offer stock options. But it gives employees flexibility and perks so legendary that even Google uses it as a model.
More

The head of Build-a-Bear traded her kid-filled existence for a day in the orderly aisles of Container Store, and vice-versa.
More

What do you love about it? Good raises? Great perks? Free food? Do you just feel lucky to have a job at all these days? Send photos and videos that show us.
more