Senior account execs at Salesforce.com take home an average $249,607 total compensation annually. See which other Best Companies to Work For offer big paychecks.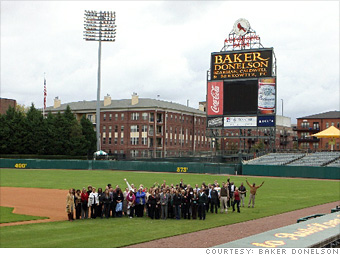 Average total pay: $319,779
For:
Shareholder*
This Memphis-based law firm is making quite a debut this year as a Best Company to Work For: It's already leaped to the top of our highest-paid list.
The firm's 279 "shareholder" attorneys -- equivalent to partners elsewhere -- earn salaries averaging more than $300,000 a year, and that's before a nearly 20 grand bonus.
But it's not just the legal eagles who are well-compensated. Legal secretaries average a little under $50,000 a year, $1,400 higher than local market average, according to Baker Donelson; paralegals earn $2,600 more than the average of $56,760. And all staffers on board at least a year are eligible for a bonus of 2% of salary.
The firm also likes to bring staff together. Day begins with The Daily Docket, a 10- to 15-minute huddle of lawyers and staff in 10-person teams to update everyone on what's going on. There are three ground rules: 1) Start on time. 2) Finish on time. 3) Don't try to solve problems.
NEXT: Salesforce.com
Last updated January 26 2010: 11:14 AM ET
*Most common salaried job