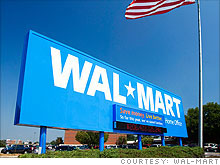 Once again, Wal-Mart grabs the No. 1 spot. See which other companies are the largest on the planet.
more

Even giants like General Motors and Merrill Lynch had a rough time in 2007. Here are 20 companies that finished the year in the red.
more

Exxon Mobil again tops Fortune's list of top earners. Which other companies are among the most profitable on the planet?
more

For the second consecutive year, the largest retailer is also the world's largest company with nearly $379 billion in revenue.
more


These five rising stars are learning from the leaders. Photographs by Gregg Segal.
more
•
Shaping future women CEOs

FAQ and methodology
All companies on the list must publish financial data and report part or all of their figures to a government agency. In the U.S., private companies and cooperatives...
More