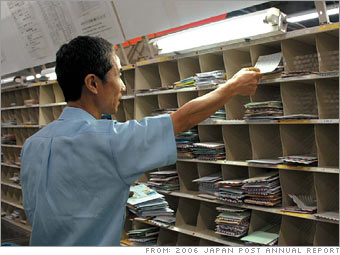 Rank:
6 (Previous rank: 11)
CEO:
Jiro Saito
Employees:
229,134
Address:
1-3-2 Kasumigaseki
Tokyo 100-8798
Country:
Japan
Website:
www.japanpost.jp
Japan Post Holdings Co. climbed five notches on our list, despite a turbulent 2009: Japanís new government scrapped plans to privatize the agency that combines mail delivery with banking and insurance services. In 2007, a previous administration split Japan Post into four parts -- banking, insurance, mail delivery and over-the-counter-services -- to make it easier to sell to private hands by 2017. But the new administration scaled the plan back as part of an effort to stem privatization and also dropped a proposed public offering.

It remains to be seen what Japanís leadership has in store for Japan Post (the nation has had five prime ministers in three years). The current government wants to expand the agencyís financial services menu, but private banks and insurance companies, who fear it could distort competition, are crying foul.

-- N.T.
Subscribe to Fortune Magazine
| | $ millions | % change from 2008 |
| --- | --- | --- |
| Revenues | 202,196.1 | 1.8 |
| Profits | 4,849.0 | 15.2 |
| Assets | 3,196,010.7 | -- |
| Stockholders' equity | 98,087.6 | -- |
| Profits as % of | |
| --- | --- |
| Revenues | 2.4 |
| Assets | 0.2 |
From the July 26, 2010 issue