Home prices may be slowing, but property taxes are heading nowhere but up. Don't get mad - get relief.
(Money Magazine) -- Homeowners across the country are angry about their property taxes, and it's no wonder.
Skyrocketing home values and sticky-fingered politicians combined to push property tax collections up 35% from 2002 to 2006, according to the U.S. Census Bureau.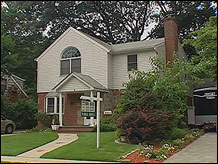 U.S. home prices are falling, making it hard for owners to sell. CNN's Gerri Willis reports (September 27)
Play video

That's double the rate of personal income growth, and the consumer backlash has intensified. Tax-cut proposals are being considered in at least 15 states, the National Taxpayers Union reports.
In Arizona an effort to roll back property assessments to 2003 levels recently failed. But in May the governor of Texas signed legislation that replaces property taxes earmarked for schools with a 1% tax on businesses.
Despite all of this activity, campaigning to change property tax rates is difficult at best. It's far easier to challenge your own tax bill. If you're enterprising, you can often find ways to get a tax cut without becoming a modern-day Patrick Henry.
Look for Errors
Tax assessors' offices are notoriously understaffed, leaving many to rely on software or even outside companies to figure out your bill. Even when an assessor visits, he may just eyeball your property from the sidewalk or the front seat of a car.
The American Homeowners Association (AHA) estimates that 60% of homes are assessed too high, so it pays to scrutinize your assessment line by line.
Ask yourself these questions: Are the basics right? Number of bedrooms? Baths? A finished basement? Lot size?
Watch for the kinds of details that could knock down the value of your home and your tax burden.
A sloped lot hurts, as will a crack in your home's foundation, an easement, even a shared driveway or an old roof. Look around you. If you have the only contemporary home in a neighborhood packed with colonials, your home's value may be lower than the tax rolls indicate.
All of these details can help you get a better deal.
Spy on Your Neighbors
Your assessment is often based on what your home would sell for (other times it's the replacement cost), and when you look around your neighborhood you may find very different tax burdens.
AHA president Richard Roll says the swing can be as great as 50%. "There's almost an arbitrary quality to these assessments," he says.
Your neighbor's property data card is a public record - you can pull it at your assessor's or county clerk's office. (Increasingly, you can also find it online through your town's Web site.)
An easier, if less precise, check is to look up recent nearby home-sale prices online. If you find a big disparity with the Joneses, that can be another weapon in your fight.
Argue Your Case
Your new tax assessment should include information on how long you have to contest it - it's often 60 to 90 days after getting your notice. Few homeowners fight back, but 70% of those who find an error do walk away with a lower tax bill, according to the AHA.
The best way to start, says Roll, is to go directly to the assessor. You have a good chance of winning if you bring evidence that your assessment is wrong or unfair (think photos of the cracked foundation).
"There are two types of low-hanging fruit. One is mechanical errors where they say you have a heated basement and it's not," he says. "The other is errors of judgment, where they assume your property is like someone else's."
If the assessor doesn't see it your way, ask for a formal hearing. You can also hire legal help, but keep in mind that attorney fees could wipe out your tax savings.
___________________________
Help! Home for sale: Readers across the country feeling the impact of a slowing housing market.
Home Prices: What the same home goes for in 342 markets