Trading in a six-figure income for fashion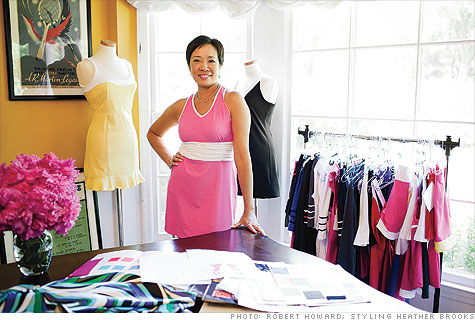 (Money Magazine) -- After 20 years in health care, Priscilla Lopez craved a more creative outlet, preferably one related to fashion.
"I knew I needed a change, but it's hard to give up a six-figure income," says Lopez, who lives in Lake Forest, Ill. She agonized for a year. Then, in 2004, the avid tennis player -- who's also skilled at sewing --began cutting back on consulting work to try designing stylish tennis outfits.
Soon after, Lopez was wearing one of her creations at her tennis club when she was stopped by the buyer for the club's store; the venue became the first to sell her Peachy Tan label.
Through trade shows, Lopez has gotten the line into 350 additional stores, and today Peachy Tan's annual revenue tops $500,000. "This wasn't a well-thought-out plan," she admits. "I was just pursuing a dream."
How she does it
1. By using savings for startup.
Lopez and her husband are diligent savers -- so she was able to withdraw startup costs without risking their retirement. Since 2006, Peachy Tan has operated out of revenue.
2. By keeping costs down.
Fabric vendors offered her volume discounts, but she found it cheaper to buy only what she needed. She's now looking into moving manufacturing overseas to cut overhead further.
3. By setting priorities.
Lopez divides her to-do list into three parts, with "absolutes" at the top. "You never get caught up at this stage of the business," she adds. "So I make sure I attack the big things."