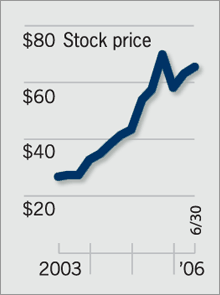 WHY IT'S HOT: High oil prices. ConocoPhillips is the nation's second-largest refiner and third-largest American oil company overall (behind ExxonMobil and Chevron).

CHALLENGES AND OPPORTUNITIES: Almost 80 percent of Conoco's oil and gas reserves are in mature regions in North America and Europe, so CEO Jim Mulva needs to push into more resource-rich regions, such as Russia and the Middle East. This year, Mulva is spending $18 billion to finance new drilling projects, upgrade investment-starved refineries and make acquisitions, including increasing Conoco's stake in Russian oil producer Lukoil. But this can be risky - witness the charge Conoco had to take when Venezuela unexpectedly slapped higher taxes on foreign oil companies. And growing by acquisition is getting pricey. Critics say Mulva overpaid when he bought energy giant Burlington Resources last year for $35 billion, a deal that added $19 billion in debt.

STOCK OUTLOOK: With a price-earnings ratio of six (based on the previous 12 months' earnings), the stock sells at a significant discount to its peers. The gap stems in part from Mulva's willingness to embrace risky exploration projects. But so far Mulva's bets have paid off, making Conoco shares look awfully attractive.