NEW YORK (CNNMoney.com) -- U.S. stocks were ready to retreat at Wednesday's open as several days of advances may have investors uneasy ahead of some key economic reports.
At 6:43 a.m. ET, Nasdaq and S&P futures were lower.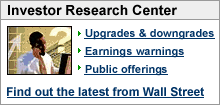 The markets rallied Tuesday following some economic reports that reinforced the idea that the Federal Reserve might cut interest rates later this month.
Investors are now looking ahead to Friday's August employment report for clues at to what the Fed may do at its Sept. 18 meeting.
The major economic reading due Wednesday is the National Association of Realtors report on pending home sales.
Stocks in Asia closed mixed Wednesday, with Japan's Nikkei losing ground while Hong Kong's Hang Seng gained. Major markets in Europe were lower in early trading.
Treasury prices were narrowly lower in early trading, taking the yield on the 10-year note to 4.56 percent from 4.55 percent late Tuesday.
The dollar was higher against the euro but lower versus and the yen, while oil prices hovering near the $75 barrel mark, the day ahead of the weekly U.S. fuel inventory report, which is delayed by the Labor Day holiday this week.
In corporate news, toymaker Mattel (Charts, Fortune 500) announced another recall of toys it was importing from China late Tuesday, its third major recall since Aug. 1. Shares of Mattel lost 0.6 percent in after-hours trading Tuesday.
Warren Buffett's investment firm Berkshire Hathaway (Charts) disclosed in a regulatory filing that it may up its stake in railroad Burlington Northern (Charts, Fortune 500) to 25 percent from his current 15 percent holding. Shares of the railroad gained 1.3 percent on the news in after-hours trading.
Also in railroad news, Canadian Pacific Railway (Charts) announced late Tuesday that it has reached an agreement to acquire the privately held regional railroad Dakota, Minnesota & Eastern Railroad Corporation for $1.5 billion in cash. The price of the deal could rise by $1.1 billion depending on expansion plans and the railroad meeting traffic goals.
General Electric's (Charts, Fortune 500) NBC Universal unit, which last week ended its deal with Apple (Charts, Fortune 500) to sell episodes of its television shows on iTunes, will now offer the shows on Amazon.com's (Charts, Fortune 500) new digital download service, the companies announced late Tuesday.
Clothing retailer Guess (Charts) saw its shares plunge 7.3 percent in after-hours trading after it gave adisappointing full-year profit outlook.
Yahoo (Charts, Fortune 500) is buying online advertising network BlueLithium for $300 million in cash, the online portal announced late Tuesday. Shares of Yahoo gained 0.6 percent in after-hours trading on the news.