Sleepworking and shopping: Pills' surprising side effects
Ambien and its ilk can be a godsend for insomniacs, but watch out for rare, unexpected nocturnal surprises.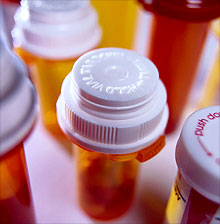 (Fortune Small Business) -- Ever since Paul Lewis was a kid, he was a restless sleeper who sleepwalked now and then. But after he started his company, a forensic investigations firm called PG Lewis and Associates in Whitehouse Station, N.J., he found he never slept soundly enough to sleepwalk.
"I just didn't know how to turn the business off ," he says. So his doctor prescribed Ambien, which seemed to help. Then Lewis began to notice a curious thing. He would leave the office with, say, 110 unread e-mails in his inbox. The next morning, all but one or two were gone.
"I would look at my outbox and realize that I had replied to almost all of them in the middle of the night," he says. "I had no recollection of it."
Most of what he sent out was coherent and accurate but every now and then a message would describe in detail a dream he was having. "One time I sent an e-mail to a colleague that was just completely bizarre. He called me the next morning to ask if I was okay," Lewis recalls. "I spent a lot of time reading my sent mail. At some point it dawned on me that it had to be the Ambien." Lewis, 43, sold his company in 2006 and hasn't taken a sleeping pill since.
He's far from alone. Driving, painting the house, raiding the refrigerator, cussing out bosses on the phone - all these nocturnal activities and more have been reported by people taking prescription sleep aids in a relatively new category called nonbenzodiazepines (NBZs) that includes Sanofi-Aventis's (SNY) Ambien and Sepracor's (SEPR) Lunesta. Usually, sleepers under the influence have no recall of what they've been up to and, like Lewis, have to piece it together from the evidence after they wake up.
iReport: Share your sleep story
Hannah Paramore, 48, president ofParamore/Redd Online Marketing in Nashville, got herself blackballed from eBay (EBAY, Fortune 500) one night last fall. While on a business trip, she apparently used her laptop to join in the bidding on several handbags and won three of them - for which she refused to pay, since she didn't want them and didn't remember shopping. "It was truly traumatic," she says now.
Although NBZs are supposed to carry less risk of dependency than older types of sleeping pills, the manufacturers advise patients not to take them for more than 11 consecutive days, and the withdrawal symptoms noted in clinical trials included fatigue, nausea, stomach cramps, nervousness, and panic attacks.
"I've learned to always research any drug thoroughly before taking it," says Eric Shannon, 39, founder and president of LatPro, a Fort Lauderdale-based online job board for Hispanic and bilingual job seekers. After taking Ambien every night for four months, Shannon ran out of pills and suffered a severe anxiety attack. "It felt like my nervous system was exploding."
After what he says was a three-month withdrawal period, during which he could barely function well enough to run his business, he recovered. Surprisingly, Shannon is still an Ambien fan: "If you have sleep problems, Ambien is a miracle drug - while it lasts."
Prescription sleep drugs are now a $4 billion business, having doubled since 2003. Of course, not everyone experiences strange side effects. (Ambien maker Sanofi-Aventis says somnambulism occurred in fewer than 1 in 1,000 patients in clinical trials.) Still, if you're thinking of trying an NBZ, you might want to enlist a loved one to keep an eye on you. And disable your eBay account.

To write a note to the editor about this article,
click here
.



My dream is to launch my own business someday. Now that it's time to choose a major, I'm debating if I should major in entrepreneurial studies or major in engineering to acquire a set of skills first. Is majoring in entrepreneurship a good choice?
More
- Spate, Orange, Calif.

More Small Business

Next Little Thing 2010