A portable motel and light-up slippers: Innovative sleep gear from entrepreneurs.
Reborn Glass' Iris Night Light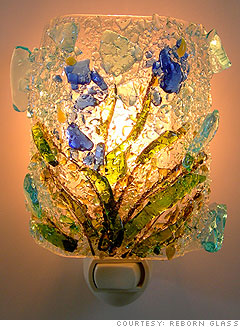 To create the floral scene on the surface of this new plug-in night light, married artists Vawn and Mike Gray fuse together broken pieces from used liquor, Perrier, and wine bottles. The Grays, who have been operating a design studio in Cape Coral, Fla. for 20 years, decided to refocus their business on crafting gifts and jewelry out of reclaimed materials after realizing how much environmental damage was being caused by the materials and process used to create their ceramic wall sculptures.
NEXT: Boston Ideas' Brightfeet's Lighted Slippers