The business of selling sleep
Yelo is betting big on stressed-out workers shelling out cash for shuteye.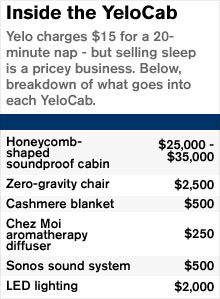 (Fortune Small Business) -- How much would you pay for a nap? For entrepreneur Nicholas Ronco, that's a million-dollar question, with the fate of his 18-month-old business hanging on the answer.
Yelo is tucked away in a nondescript storefront on West 57th Street, a busy industrial stretch of Manhattan's midtown. But step inside, and you can leave urban noise and pressures behind as you settle into a soundproof YeloCab, a cozy cabin engineered for maximum tranquility. Yelo's business is selling naps - and right now, that business is booming.
"The old '80s or '90s attitude of 'I'm a type A personality; I can get by on four to five hours of sleep' is going out the window," Ronco says. "A lot of these people actually die of a heart attack at 45 and 50. They're no hero anymore."
A 41-year-old veteran of New York City's suit-and-tie crowd, Ronco developed Yelo in hopes that BlackBerry-addicted corporate workers would wake up - or rather, fall asleep - and smell the aromatherapy. The sight of citydwellers napping in bathroom stalls and parking lots inspired him; Ronco saw an unfilled need for temporary oasis spots where New York's 9-to-5 set can curl up for a few minutes on a lunch hour or break.
Selling that vision to potential clients and investors was the next step. Ronco first pitched HR departments around the city. "What they told me was not, 'Ok, great, we'll give you money' or 'We'll send our employees,'" Ronco says. "They said, 'If you build it, we'll try it.'"
Ronco then turned to friends, family and ex-colleagues for investments: "A lot of people and potential investors were extremely sensitive, because they could all relate." His first backers included an investment banker and the chairman of a cosmetic company.
Yelo opened in doors in February 2007. Since then, more than 4,000 nappers have stopped in, a clientele ranging from corporate executives to groups of twentysomething "disco nappers" that swing by on Saturday afternoons to rev up for a night on the town. Corporate clients such as Alvin Ailey Dance Theater, Hearst Corporation and BMI bring in steady, repeat business.
As he priced his naps, Ronco studied the cost of everyday commodities, such as a cab ride or lunch. A snooze at Yelo now costs $15 (20 minutes) to $28 (40 minutes). In its first year, the nap shop booked revenue of $400,000; for next year, Ronco projects sales of $1.3 million. Right now, revenue is growing by an average of 23% each month.
The idea of selling naps has instant appeal - Yelo had no trouble attracting scads of media coverage when it opened. But sustaining a nap business over the long term has proven surprisingly tricky.
New York City's first commercial napspace, MetroNaps, opened in 2004 inside the Empire State Building. But attempts to grow beyond one location into a franchise business never panned out, and in April, MetroNaps closed its pioneering storefront. A change in the Empire State Building's visitor policy forced the decision.
"We would have to pre-register anyone visiting," said Janet Rhew, MetroNaps' office manager. "The nature of our business is for people who could just drop in. It's largely walk-ins."
The company, founded by Arshad Chowdhury and Christopher Lindholst, now focuses mainly on consulting for companies trying to implement employee health programs. MetroNaps sells and rents its EnergyPods - partially open, spherical bedchambers - to small and large businesses, including wellness spas and Google (GOOG, Fortune 500).
Another napping storefront, MinneNAPolis, opened in the Mall of America in November 2005, selling sleep for 70 cents a minute. It closed down less than a year later for lack of business.
While nap stores have struggled, the sleep-therapy trend has taken off in the spa industry, according to SpaFinder President Susie Ellis. Spa sleep treatments have made SpaFinder's Top 10 Spa Trends list for the past two years. The offerings range from New Agey options like dream analysis and sleep yoga (at Connecticut's Mayflower Inn) to physician-run insomnia relief programs (available at Canyon Ranch's outposts in Tucson and Lenox, Mass.).
"We deal with thousands of spas, so we have a good sense of up and coming trends," Ellis said. "I've been watching sleep health become a pillar as much as diets. Spas are moving toward health and wellness and moving away from the idea of pampering."
In Atlanta, Susan Vanyo joined the trend when she opened Rejuvenate Spas in November 2007. Vanyo, who formerly worked in the real estate industry, placed her spa in SunTrust Plaza in downtown Atlanta , where she knew she could attract a corporate clientele.
"I thought, 'I can't be the only person that needs this,'" she said.
Rejuvenate has five separate napping rooms, each equipped with a nap "pod." Two of the pods are MetroNaps EnergyPods. The other three are egg-shaped Alpha pods, which cover the body from the neck down and featured heated, vibrating beds. A 20-minute nap sells for $14. Like Ronco, Vanyo targets corporate HR departments: Some local employers subsidize their staff napping.
Entrepreneurs like Ronco envision franchising as their next sleep frontier. Now breaking even on his storefront, Ronco hopes to have 25 Yelo outposts in New York City within the next seven years. He sees no shortage of bleary-eyed customers willing to shell out for shuteye.
"We proved the concept," Ronco said. "It's the price of something people consider to be absolutely useful and don't really think twice about. We had no price resistance whatsoever."

To write a note to the editor about this article,
click here
.



My dream is to launch my own business someday. Now that it's time to choose a major, I'm debating if I should major in entrepreneurial studies or major in engineering to acquire a set of skills first. Is majoring in entrepreneurship a good choice?
More
- Spate, Orange, Calif.

More Small Business

Next Little Thing 2010