Small businesses hire as big companies cut
Small companies are moving slowly on new hires, but are creating more jobs than large businesses.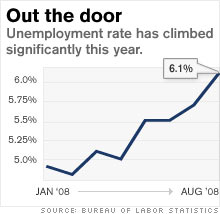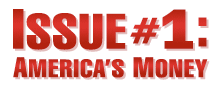 Issue #1: America's Money - Everyday on CNN
(CNNMoney.com) -- Have you been a victim of corporate-America layoffs? Look to small businesses for your career future.
As unemployment soared to a five-year high in August and the U.S. economy shed another 84,000 jobs, the small-business sector stayed more stable. Hiring at smaller companies is soft, but still inching along.
Companies with fewer than 50 employees increased their payrolls by 20,000 positions in August, according to the latest edition of ADP's National Employment Report. That contrasts sharply with the 53,000 jobs shed at larger companies by ADP (ADP, Fortune 500)'s count, which is based on data from a subset of clients using ADP's payroll services.
Entrepreneurs are still being cautious in their staffing. The most recent National Federation of Independent Business (NFIB) economic report, released Tuesday, shows that hiring has stayed fairly flat: Of the 812 small businesses owners surveyed, 11% increased employment recently by an average of 5.7 employees, while 15% cut staff by an average of 3.7 employees.
"The economy is weak," said NFIB chief economist Bill Dunkelberg. "Capital spending is lagging, profits are down, we're liquidating inventory and we don't have customers. We won't be hiring like normal until people start spending again."
But while big companies can freeze hiring while waiting for the economy to pick up, small companies don't have the luxury of hitting the pause button. Michael Inserra, partner at San Francisco-based headhunting firmAlchemy Search, said that small companies are being increasingly picky about candidates, wanting only those with very specific qualifications and a good deal of experience, but they're still shopping for talent.
"The huge companies that are usually the stalwarts of hiring are on hiring freezes and want to work with their current headcount, or make cuts, to feel financially secure," Inserra said. "Small businesses are scrutinizing headcount, too, but they have to continue adding employees to ensure the foundation of each department."
Tom Berens, owner of The Go Travel Sites in Salt Lake City, is among those looking for staff. His 11-year-old travel portal is in the midst of a major expansion.
"Our portal now covers 50 states, and we're going to move internationally," he said. "Currently we have 18 full time employees and numerous contract workers, but I expect to add five more full time and five more contract employees within the next 12 months."
Berens' view is that small businesses are more affected by their own industry and local geographic trends than they are by broader economic downturns. "We're in a market that's growing, but also, relative to mid-size or large-size businesses, we're not as impacted by the macroeconomics of the country," he said.
While small companies are proceeding cautiously on new hires, they seem more likely than big ones to keep the employees they bring on. CareerBuilder.com's third-quarter Job Forecast Report, released in early July, found that only 18% of firms of 50 or fewer employees said they planned to add permanent staff positions in the next few months, compared to 27% of larger firms - but when asked if they anticipated layoffs, 12% of big companies said yes, compared to just 7% of small businesses.
NFIB sees a glimmer of light on the horizon: Its August small-business economic report indicated modest improvements in earnings gains and in sales expectations. "Hopefully we've hit the bottom," Dunkelberg said. "The survey indicates that business owners expect conditions to improve over next few months, which will bring new customers and require new hires."
Headhunter Inserra agrees that there may soon be a move forward in job creation.
"Based on my fifteen years of experience and what I've been hearing from my clients, we can be cautiously optimistic," he said. "If companies aren't doing that badly from a revenues and earnings standpoint, it's only a matter of time before they stop playing it ultra-safe and just give in."

To write a note to the editor about this article,
click here
.



My dream is to launch my own business someday. Now that it's time to choose a major, I'm debating if I should major in entrepreneurial studies or major in engineering to acquire a set of skills first. Is majoring in entrepreneurship a good choice?
More
- Spate, Orange, Calif.

More Small Business

Next Little Thing 2010